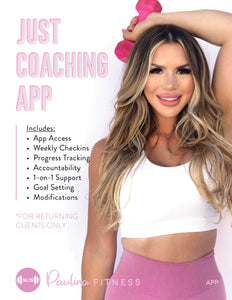 The just coaching package is an option for just 12 weeks of extra coaching via my new APP! This is meant only for returning Paulina Fitness Clients only who are looking for accountability, message support, progress tracking, and modifications!
THIS PROGRAM DOES NOT CONTAIN SCHEDULED IN APP WORKOUTS OR VIDEO DEMONSTRATIONS! If you would like to add-on scheduled workouts to this "Just Coaching Program", you can select "APP SCHEDULED WORKOUT ADD-ON" in cart! 
This Accountability APP Includes:
-Weekly Monday Checkins 
-Progress Tracking (Photos, Weigh Ins, Measurements)
-Step Tracking 
-Goal Setting 
-In App Messaging/Support
Are you unsure which program would be best for you and your goals? Fill out our FREE CONSULTATION FORM.