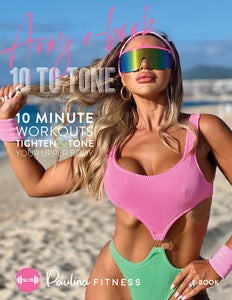 ADIOS BAT WINGS! 
As someone who constantly struggled with flabby arms no matter how much weight I lost, I finally found the perfect workouts to tighten them up! 💪
Are you ready to transform your upper body in 30 DAYS?! This ebook was designed by Paulina to help women LOVE THEIR UPPER BODIES! You will sculpt sexy arms, a beautiful back, toned triceps, and MORE!  This ebook will help you improve your upper body composition for an overall more flattering figure! All you need is 1 set of weights!
*Download it straight to your phone or computer! 
What this Ebook includes:
-30 day calendar schedule
-3 Workouts Per Week
-Only 10 minutes workouts that can be done from home or the gym!
-Paulina's Tips and Tricks
-Instant Download 
 (Beginner-advanced level) 
*not recommended for someone who suffers from chronic pain/injuries. Please consult your doctor before use of this program.  
*This ebook does not contain meal programs or coaching by Paulina Fitness.
*This ebook is final sale.