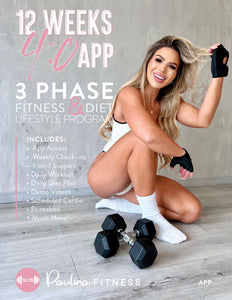 For Paulina Fitness returning clients only! 💪 (This plan will stack on to your current program)
The Paulina Fitness 12 Week 4.0 APP is designed specifically to help all Paulina Fitness returning clients to keep losing weight through balanced eating, effective compound exercises, and weekly accountability! 
You are eligible for this program if you have completed:
-12 Week App
-12 Week After App
-12 Weeks 3.0 App
-Just Coaching App Upgraded


This program was designed specifically for women wanting to live and create a healthier lifestyle. Following this program will not only help you shed weight, but it will also teach you how to eat and exercise efficiently and effectively. With coaching in the app, you will be held accountable with convenient weekly checkins and messaging all in one place. Paulina will set a weekly goal for you and monitor your weekly progress with checkins, photos, messaging, support, and more. This program is non-restrictive and super easy to follow with long lasting results.

What 4.0 APP includes: 
-Daily Diet and Exercise Program (ALL NEW FOOD AND WORKOUTS)
-Workout Demonstration Videos 
-Weekly Accountability Check-Ins (Monday)
-In App Progress and Body Stats Tracking (Weight, Measurements, Progress Photos)
-Before and After Photos at Week 12
-Messages with Trainer Paulina (Client Support)
-Option to connect with other clients via the support group
-Option to Connect IWatch, Fitbit, and or Withings
-Daily Step Tracking 
-Spotify Playlist (hours worth of Paulina's favs)
-Food Swap List
-What to eat when eating out (Updated list)
-Isolated Target Workouts
-Goal Planning
-Self Care Lists
-Product Discounts
-and MORE!
 Information about the APP:
-Start Date would be the next Monday after you sign up unless noted otherwise. (YOU CAN choose your start date, just let Paulina know when setting up your app information) 
-This plan will stack on to your current plan!
-This APP is available in the Apple Store and on Android. 
-This app does not contain a scheduled daily nutrition plan. Diet will come as a separate attachment within the APP.
On average, women who follow this program closely lose approximately 12-25 lbs. Some clients have the ability to lose up to 63+ lbs (results may vary).