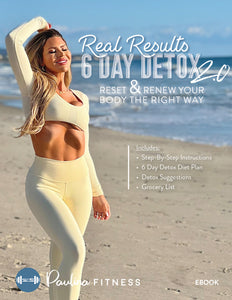 Do you feel like your body needs a reset for the NEW YEAR? LOOK NO FURTHER! Clients lose up to 12 lbs in 6 days of retention and bloat!
ASK YOUR DOCTOR BEFORE STARTING ANY DETOX PROGRAM AND OR INCORPORATING ANY SUPPLEMENTS. 
This is the detox program for you! This 6 Day Detox will focus on eating low calorie whole foods that are high in volume so you won't feel hungry (This is the proper way to RESET)! The 2.0 program will reset your gut and focus on eliminating extra waste and retention! We will focus on eliminating hard to digest foods to improve bloating, gut health, and overall wellbeing! Get ready to lose weight and feel your absolute best! 
This detox is:
-Gluten Free
-Dairy Free
-Soy Free
-Low Fodmap
-Low Inflammatory
This 2.0 detox includes:
-6 Day Daily Diet Plan
-Detox Tips and Tricks
-Grocery List
-Supplement Suggestions
-and MORE!
 (Does not Contain App Access or Workouts)