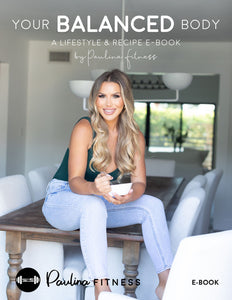 (

THIS IS AN EBOOK, NOT A PHYSICAL HARDCOPY)
ABOUT THIS RECIPE EBOOK: Paulina approved delicious and EASY recipes that will help you transform your body and lifestyle!
This Ebook contains DOUBLE THE RECIPES! 
As a busy mom of 2, wife, business owner, and trainer my time is limited in the kitchen! I created this Recipe and Lifestyle Ebook to help you enjoy your weight loss journey by bringing delicious Paulina approved recipes into your home! Not only are they easy, simple, and delicious but you will learn some of my favorite lifestyle tips as well. When you start living healthy, your body will SHOW IT! You won't even feel you are dieting with Your Balanced Body! 

This Recipe Book is:
-Dairy Free
-Can be made Low FODMAP
-Soy Free 
-Gluten Free
-Contains 42 Recipes
-7 Breakfasts, 7 Lunches, 10 Dinners, 2 batch proteins, 4 Snacks, 2 Desserts, and 5 Cocktails (must be 21+ to consume alcohol) !
-Contains Lifestyle Tips and Tricks
PaulinaEbook20 for 20% OFF ALL STONE AND CLAY PRODUCTS! https://stoneandclay.com/