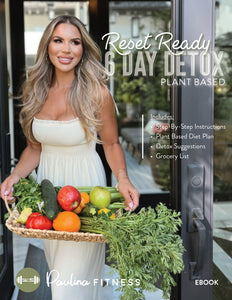 Ever feel like your gut is stuck in a rut? Are you constantly bloated after eating? Did you know that when your gut is healthy you are able to lose weight FASTER and improve bloating? As someone who loves protein, sometimes your body just needs a quick break to reset! Animal protein is GREAT, but it does require more effort out of your digestive system to break it down. Try this 6 Day Plant Based Detox to improve digestion with high fiber, easy to digest plant proteins! You can do anything for 6 days!
ASK YOUR DOCTOR BEFORE STARTING ANY DETOX PROGRAM AND OR INCORPORATING ANY SUPPLEMENTS. 
This 6 Day Plant Based Detox will focus on eating high volume plant based foods so you won't feel hungry! It includes optional Paulina approved extra snacks. We will focus on eliminating hard to digest foods to improve bloating, improve gut health, and overall wellbeing! Get ready to lose weight, heal your gut, and feel AMAZING! 
This detox is:
-Vegan
-Gluten Free
-Dairy Free
-Soy Free
Reset Ready Benefits:
Gut Reset, Reduce inflammation, Restore Normal Gut bacteria Levels, Reduce candida, improve brain fog, increase energy, reduce cortisol/stress levels, improve body fat and weight, improve IBS, improve digestion.  
This detox includes:
-6 Day Plant Based Daily Diet Plan
-Detox Tips and Tricks
-Grocery List
-Supplement Suggestions
-and MORE!
 (Does not Contain App Access, Workouts, or Coaching)