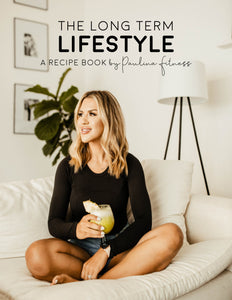 AVAILABLE NOW (THIS IS AN EBOOK, NOT A PHYSICAL HARDCOPY)
ABOUT THIS RECIPE BOOK:
As a busy mom, wife, and business owner, my time for cooking extravagant meals is limited. I created this recipe book to help you create delicious, easy, and healthy meals all under 500 calories that the entire family can enjoy! Follow the recipes, or add a personal spin on them to create amazing meals that you will be CRAVING all week long! All of these recipes are Paulina Approved! 

This Recipe Book is:
-Dairy Free
-Soy Free 
-Gluten Free
-Contains 20 Recipes
-Breakfasts, Lunches, Dinners, Snacks, Desserts, and 2 Cocktails!