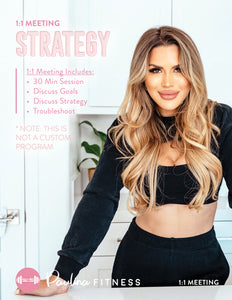 Want to take your diet, lifestyle, health, and workouts to the next level? Sign up for a 30 minute 1 on 1 live session with Paulina! In this time Paulina will review your goals, struggles, questions, and come up with a game plan! 
This LIVE 30 Minute Strategy Session with Paulina can be to troubleshoot any diet, lifestyle habit, workout related issues, or just answer any questions!
THIS IS NOT A CUSTOM WORKOUT OR DIET PLAN!  
(Can be for current clients, returning clients, or act as a new client consultation!)


For more info, Email Paulina@paulinafitness.com