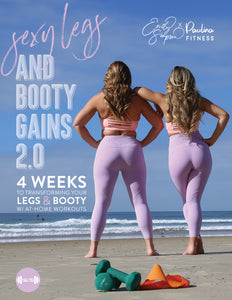 Are you ready to transform your legs and booty in 30 DAYS with AT HOME WORKOUTS?! This ebook was designed by Paulina to help women learn to love their lower half! Join Paulina Fitness and Emily Simpson for their favorite leg and booty workouts! 
*Download it straight to your phone or computer! 
What this Ebook includes:
-Home workouts (30 day schedule)
-Daily Leg and Booty Challenge with Social Media Accountability 
-What you need to get started
-Tips and Tricks for transforming your lower Half 
-Home workout instructional photos
-DEMO VIDEO ft. Emily Simpson of The Real Housewives of Orange County
-Instant Download 
What you will need:
 -Weights or Cans
-Loop Resistance Bands (optional)
 (Beginner-advanced level) 
*not recommended for someone who suffers from chronic pain/injuries. Please consult your doctor before use of this program.  
*These are listed workouts, not daily videos! 
*This ebook does not contain meal programs or coaching by Paulina Fitness.
*This ebook is final sale.