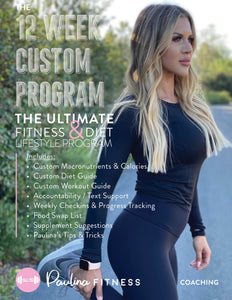 THE ULTIMATE 3 month Weight Loss Program 100% catered to you and your goals! This program will take up to 7 business days to create from the time of completed questionnaire.  The average weight loss on this program is 25-30 lbs. Paulina suggests doing this program after her 12 Week Plans unless needed extra help!
(Discount codes and sales do not apply towards this program) 
What this Program Includes:
-App Access
-Custom Diet
-Custom Workout Guide
-Client Questionnaire 
-Online Coaching
-Weekly Checkins
-Body Specific Workouts
-Tips and Tricks
-Nutrition Guide
-Before and After Photos
-Custom Supplement Guide
-Detailed health tips
-Measurement Tracking
Are you unsure which program would be best for you and your goals? Fill out our FREE CONSULTATION FORM.